What are the most popular Troll games?
What are the new Troll games?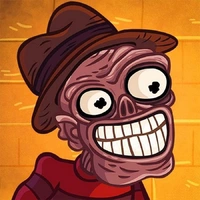 Play Free Troll games Online
Are you in low spirits? Feeling blue or tired? There is a proven method to fix it! Play troll games on our website. You've never seen anything like them, we suppose. And even if you have these are 100% worthy. Crafted with love and totally insane, they bring all the hahas you may need. They say laughter is the best medicine. We couldn't agree more!
From 4chan to video gaming
One of the oldest and the best-known memes strikes back. It's hard to believe the original image was created in 2008! And it's still popular and widely used. You're invited to tag along in the series of awesome 2D adventures. We've put them all together here, on Kevin Games. Ain't that sweet and thoughtful? Well, we live in odd times and support each other in the most bizarre ways possible. Why not take everything remarkable content creators have to offer? Especially considering the fact you don't have to pay for the experience. Start right from this page. All you need is an internet connection, a will to LOL, and some spare time.
Join the troll games online
No install is required, save your data storage. Join via almost any browser on any type of device. That's right: just a few clicks separate you from tons of gripping challenges. Use a PC or a mobile gadget. There are versions for smartphones and tablets, too - they are light and unlagged. Even the average characteristics are not an obstacle. Plus, it won't cost you a single buck! Enjoy the coolest troll games free of charge at any moment of day and night. We hope you'll like our selection as much as we do. Stay tuned as it's been updating regularly. Good luck, have fun!
---
We carefully selected 8 of the greatest Troll games and made them available for you online for free.
This archive consists of browser games for desktops and mobile platforms as well as titles specifically designed for tablets and phones. Here you will find some truly amazing gems like Friday Night Funkin' vs Troll Face, Troll Face Quest, Absurd Trolley Problems, Trollface Quest: Horror 1, Torture The Trollface, and tons of other awesome free games.
---