What are the most popular Doctor Games?
What are the new Doctor Games?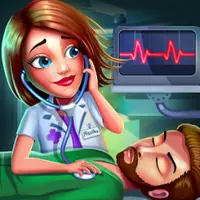 Play Free Doctor Games Online
Compassion and altruism are essential qualities that every parent should teach their children. A great way to do that is by playing doctor games online with them. Treating virtual patients gives a sense of accomplishment. And teaches to take care of others. It's troubling to see your favorite cartoon character or an adorable pet in distress. That's why helping them get through the worst, recover, and feel better is so rewarding. Take splinters out of a kitten's paws, tend to a princess's injuries, and disinfect wounds. Show your kids what goes into the work of medical professionals. Teach them good values. Maybe this experience will help them discover their place in life.
Kid-friendly Realism
The inner workings of the human body are a fascinating topic that most parents avoid. There are good and bad ways to introduce your child to the subject. Age-appropriate surgery simulators are designed to demonstrate the basics to younger audiences without confusing them. Showing blood and trauma in the right context negates the disturbing effects of such visuals. What's left is pure scientific interest, feelings of enlightenment, and understanding. Kevin Games is full of great titles that demonstrate this very well. They effectively combine entertainment and education into an enjoyable blend that the little ones love.
Doctor Games Free of Charge
Good quality usually costs money, but it doesn't have to be this way. The computer entertainment industry has found other ways of monetizing content. A short ad between gaming sessions and the virtual medical procedures can continue. With our collection, you can have hours of fun and discover hundreds of suitable titles. Take on the roles of surgeons and nurses without paying anything for the experience. Enjoy wonderful hand-drawn illustrations, cute characters, and engaging mechanics.
Caring for others is one of the most valuable lessons fiction can teach. Let your child save their favorite heroes, and nurse them back to health. Play doctor games with them and learn valuable facts about the field of medicine together.
---
We carefully selected 19 of the greatest Doctor Games and made them available for you online for free.
This archive consists of browser games for desktops and mobile platforms as well as titles specifically designed for tablets and phones. Here you will find some truly amazing gems like Mommy Doctor Check Up, Mia Medical Emergency, Crazy Dentist, Superhero Pregnant Emergency, Mad Dentist, and tons of other awesome free games.
---