What are the most popular Swimming Games?
What are the new Swimming Games?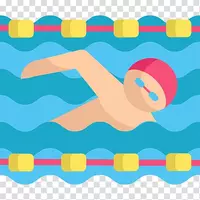 Play Free Swimming Games Online
Online swimming games are a collection of water adventures. While the gameplay and missions differ, they share 1 goal. They're designed to create positive emotions and to have fun! The category consists of the most popular titles dedicated to wet ventures. Short sessions make sure you have time to try them all! Only to find your favorite digital toy.
1-Clicking Mechanics Rock
The simpler the controls, the more interesting it is to dive into the virtual journey. Speed and accuracy are the key features that lead you to victory. For example, there is an adventure in which you swim for as long as possible. However, the lanes in the pool have obstacles to challenge you. Other people, balls, etc. Find the clear path by clicking on the lane with nothing in your way. Are you fast enough to spot the danger from a distance and avoid the collision?
In Waterpark Slide.io multiplayer, you drift over water rollercoasters. Press only LMB to maneuver through the crowd of your opponents. Head for boosters and be the first to reach the finish line. It's fun!
Play Swimming Games and Enjoy the Atmosphere
Some titles offer a special atmosphere. In Live Aqua Hero Adventure, you dive into the underwater world of another civilization. Have a look at mysterious runes on rocks, strange algae, dangerous sea species, etc.
The collection also features the simulator of the international championship. Choose your country, the distance, and jump into the water! Sometimes, it feels like you are participating in the Olympics. The cheering audience, medals, intense competition.
How to Join Now
Launch your browser. If you don't have it, install one. Google Chrome is the perfect option. But others will also do.
Pick the title on Kevin Games.
Click "Play" and join without registration.
All swimming games are free of charge! The same applies to other entertainment options. There are lots of digital journeys to embark on.
---
We carefully selected 5 of the greatest Swimming Games and made them available for you online for free.
This archive consists of browser games for desktops and mobile platforms as well as titles specifically designed for tablets and phones. Here you will find some truly amazing gems like Swimming Hero, Waterpark Slide.io, Swimming Pro, Boat and Dash!, Live Aqua Hero Adventure, and tons of other awesome free games.
---