What are the most popular Science Games?
What are the new Science Games?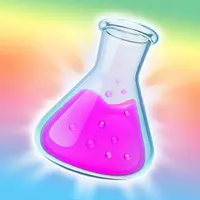 Play Free Science Games Online
The category of science games online is not about boring stuff like formulas and equations. Instead, it focuses on dynamic or meditative activities to have fun. As well as to train your reaction skills, concentration, and fast decision-making. Check out why these different genres are worth trying.
Cool Ideas and Nice Visuals
Whatever adventure you pick, you'll see familiar mechanics. For example, in Scientist vs Aliens, you deal with a match 3 genre. However, instead of ordinary tiles, there are atoms. As you connect them depending on their color, you generate energy. And watch as the main character uses it against the monster in the animation above. This looks fresh and boosts you to hurry up.
A completely different concept is implemented in another puzzle adventure. In Annihilate, you move atoms across the grid and do everything to unite them. However, black holes, boxes, and deadly lasers are constantly getting in your way. Which forces you to think to find the most optimal route.
Play Science Games: Hooking Content
Sometimes, developers fail to deliver the balance between visuals and gameplay. It makes titles boring and doesn't attract users. But this category has united only cool options under one digital roof. They're both engaging and run smoothly without causing any bugs. For instance, Aliens Attack is based on the principles of old arcade shooters. You control a defender in the lower part. The waves of creatures come at you from above. Moving left or right, you dodge lasers and kill monsters until a boss shows up. You upgrade and dive into the next level, more prepared than before. It's classic but still works.
Availability for Everyone
Enjoy science games free of charge. They are all browser-based, so you kill several birds with one stone:
Have fun from any device
Avoid downloading or installation procedures
Save your gadget's storage space
Doesn't let any viruses penetrate your system
Just come to Kevin Games and launch the digital toy you like.
---
We carefully selected 10 of the greatest Science Games and made them available for you online for free.
This archive consists of browser games for desktops and mobile platforms as well as titles specifically designed for tablets and phones. Here you will find some truly amazing gems like Aliens Attack, Scale of the Universe 2, Crazy Scientist, The Wisdom and/or Madness of Crowds, We Become What We Behold, and tons of other awesome free games.
---