What are the most popular Guitar Games?
What are the new Guitar Games?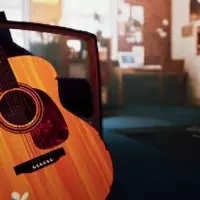 Play Free Guitar Games Online
Now one easily finds virtual adventures dedicated to any topic. Fans of musical instruments can try to play guitar games. The category has several toys that are very popular among fans. Designed to improve logical thinking in the first place, they are a great instrument. Which can be used for mental development both by grownups and children.
What Are These Adventures About?
They are about enhancing your puzzling skills. If you try a couple of rounds, you'll feel your superpower of logic grow. The challenges are demanding and relaxing at the same time.
They are also about unleashing your creativity. You'll find a couple of toys that are wholly focused on boosting your imagination. Create art objects, download them to your device and assemble an impressive portfolio of works.
They are about training your memory. It is important, as paying at least a couple of minutes a day is effective. You won't notice it right away, but the neural connections become stronger. And can store much more information.
Why Try Guitar Games Online?
The collection is maximally neutral and suits any gender. With their violent-free content, the titles are often approved by parents. Plus their profound brain upgrade features make it a useful activity. And the most powerful argument: they never cause addiction. Adding good graphics and nice animations, the adventures inflame positive emotions.
High Quality Guaranteed
Online gaming may not be safe. There are websites with viruses that are waiting to attack. That is why we recommend Kevin Games as a provider of cool entertainment options. Enjoy guitar games free from viruses and any downloading processes. Use verified links to connect to the title and have a good time playing.
---
We carefully selected 5 of the greatest Guitar Games and made them available for you online for free.
This archive consists of browser games for desktops and mobile platforms as well as titles specifically designed for tablets and phones. Here you will find some truly amazing gems like Bts Music Instrument Coloring Book, Dino Rock, Music Memory Challenge, Puzzle Guitar, King Of Strings, and tons of other awesome free games.
---