What are the most popular Chicken games?
What are the new Chicken games?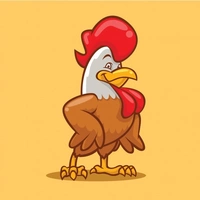 Play Free Chicken games Online
Online chicken games are a feathered collection of the best adventures. Featuring these cute birds as the main characters, the titles offer different digital worlds. Some are peaceful and meditating, while others are fast-paced and action-packed. Hens are good guys in most cases, and yet you'll see them ready to fight.
A Story to Every Taste
You'll find all kinds of genres in this collection. One platformer tasks you to catch the birds and bring them home. However, the route is filled with obstacles, such as pounds, hills, chameleons... Even your own hens will bite you if you're not careful enough. The good news is that you're a wizard and can easily deal with such challenges. Right?
If you're more into tactics and thinking, check out the strategy adventure. Battle hordes of barbarous hens and roosters that attack the wall you protect. Merge cannons to upgrade them, place them on the tower and watch them shoot. Keep buying new weapons and improve the fortifications. The higher the level, the more powerful enemies will come at you.
How to Play Chicken Games
Just as most browser-based titles, these are easy to master. Some of them are pure clickers, with 1 button to set everything in motion. Tap on the screen for the bird to eat, jump or climb to higher levels. Others run with WASD, arrows, and extra combinations. But their layout on the keyboard is thought-trough and convenient. Your fingers will quickly learn what to do to win!
Why Choose Kevin Games?
There are several reasons to chill out with this website:
It's safe. We check the content before publishing to sieve away dangerous or low-quality content. As a result, users enjoy journeys without bags and viruses.
It's convenient. The website is easy and pleasant to navigate. You'll find lots of cool staff under 1 digital roof.
It doesn't require the players to sign in to get access to the adventures.
Chicken games are free to join for everyone. The same applies to other entertainment options. Liked something? Launch it and have fun right away.
---
We carefully selected 7 of the greatest Chicken games and made them available for you online for free.
This archive consists of browser games for desktops and mobile platforms as well as titles specifically designed for tablets and phones. Here you will find some truly amazing gems like Hury.io, Chicken Climbing, Drop Food, Merge Cannon Chicken Defense, Stupid Chicken, and tons of other awesome free games.
---