What are the most popular Love Story Games?
What are the new Love Story Games?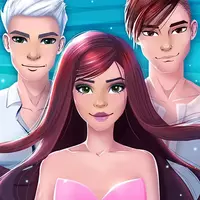 Play Free Love Story Games Online
The subject of romantic relationships has been thoroughly explored in both art and entertainment. However, it has been overlooked by the gaming community. For many years, players gave preference to the more dynamic, action-oriented experiences. Few are aware of the recent resurgence of love story games online. And contrary to a widespread misconception, they are just as fun as their conventional counterparts. Those who have never tried them tend to be quite skeptical. Perhaps, this overview will change their minds by outlining the numerous advantages of the niche.
In the Name of Romance
Historically, the medium hasn't been particularly generous with titles that revolve around couples. Of course, the classic narrative where the hero saves the princess is still extremely prevalent. But when it comes to sweethearts cooperating and overcoming difficulties together, the choices are scarce. Nevertheless, Kevin Games carries several worthy products that fit the description. Due to the differences in gameplay and presentation, they cover a wide range of subgenres:
Interactive narratives and virtual dating sims
Classic platformers, side-scrollers, and shooters that feature 2 lovers as their protagonists
Miscellaneous puzzles and brain-teasers where the goal is to reunite separated lovebirds
Graphic adventures that involve amorous escapades in some shape or form
The category is fairly diverse and has something for everyone. Don't hesitate to experiment and discover multiple suitable options to taste.
How to Play Love Story Games Without Downloading
Typically, those looking for something very specific are prepared to pay a premium. The more obscure the genre, the costlier its offerings usually are. At least, it was the case a decade ago. Thankfully, latest advancements in web-based technologies have improved the situation. Today, regular browsers are capable of running simple apps without installation. To enjoy them, open this website in Chrome or Firefox and browse the desired section. Click on any thumbnail to start the playthrough and have a blast.
When two kindred spirits become infatuated with each other, nothing can stop them. Check out dozens of wholesome and life-affirming love story games for free. Help the characters find their betrothed, break all the barriers, and live happily ever after.
---
We carefully selected 3 of the greatest Love Story Games and made them available for you online for free.
This archive consists of browser games for desktops and mobile platforms as well as titles specifically designed for tablets and phones. Here you will find some truly amazing gems like Love story, Fluffy Story 2, Super Doll, and tons of other awesome free games.
---