What are the most popular Battleship Games?
What are the new Battleship Games?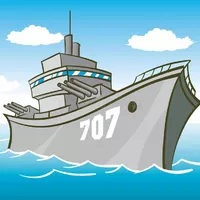 Play Free Battleship Games Online
When gamers think warfare they tend to imagine large-scale battles that take place on land. Some immediately envision heated dogfights in the sky. But naval combat, despite being somewhat slower, is actually just as intense. Positioning ships and ordering precise strikes takes time, coordination, and accuracy. However, once everything aligns perfectly, nothing compares to finally delivering a devastating blow. To experience that in a virtual format, look for specialized battleship games online. Become a war-hardened commander in charge of a small fleet or a singular vessel. Anticipate the enemy's every move and always be one step ahead. Unleash powerful projectiles and sink entire armadas with ease.
Terror of the Seas
Although this category is limited to a single theme, it encompasses a variety of titles. They come in great diversity and range from turn-based strategy to real-time action. Regardless of the specifics, they all provide that unique feeling of controlling an unstoppable force. Here are a few examples of what's available on Kevin Games:
Digitized versions of classic tabletops revolving around marine conflicts
Realistic simulators that put the player directly at the helm
Survival sims that allow designing custom watercraft
Tycoons that focus on the industrial aspect of building warships
In this assortment, there is something for everyone. Users can base their choices on individual preferences or experiment with new playstyles. Either way, fun is guaranteed.
How to Play Battleship Games Without Installation
Niche products are often costly due to how sought-after they are. Enthusiasts are prepared to pay a premium in order to get what they want. However, as the market grows, more accessible alternatives start to appear. Content aggregation websites like this one never charge their visitors for entertainment. Browse the selection and launch any of the entries directly in the browser window. Make sure to use Firefox, Chrome, or another comparable client for best performance. Support the devs and publishers by disabling adblocking plugins and enjoy thousands of web-based apps.
Seafaring, navigation, and fleet positioning are just as exciting as air and ground military operations. The uninitiated have no idea what they're missing out on. Explore a huge assortment of battleship games for free and have a wonderful time.
---
We carefully selected 8 of the greatest Battleship Games and made them available for you online for free.
This archive consists of browser games for desktops and mobile platforms as well as titles specifically designed for tablets and phones. Here you will find some truly amazing gems like Torn.Space, Battleships Armada, Boat Simulator 2, TRZ Battleship, Battleship, and tons of other awesome free games.
---